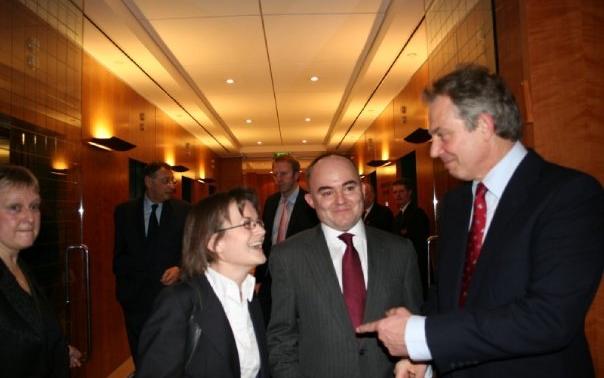 A personal recollection from Executive Chairman, Mark Glover
It is 25 years since the election of the Tony Blair Labour Government. A day of hope, exhilaration and of lingering exhaustion after what had been a demanding two weeks of full-time campaigning for myself and partner in crime - Tom Glaisyer, currently Managing Director of Program at the Democracy Fund in Washington, who had spent the fortnight touring the country, campaigning for female candidates, trying to combine our commitment to Labour and equality of opportunity at the same time.
I was lucky enough to be in Downing Street when Tony, Cherie and family arrived and we cheered ourselves silly before retiring to that most political of pubs, the Marquis of Granby, for a well-earned drink with Tom Watson and many, many others.
It was clear even then that the Labour Government was going to be a very professional organisation, with the media operation led by Campbell, whilst Mandelson and Gould oversaw political strategy - in those first few days of Government, Labour could not put a foot wrong. The papers led on the creation of an independent Bank of England, a major and surprise policy which reinforced that this was a Labour Government different from that which had gone before, but also different from the Labour painted by the Conservatives during the General Election campaign. There was a genuine sense of optimism in the country about what Britain could become.
Alongside policies on the Minimum Wage, funding for the NHS, investment in public education and the creation of Sure Start programme, recognition of civil partnerships and many, many others, there was the commitment (particularly important to Gordon Brown) to reduce child poverty. There was also a pledge to rebalance the funding of local government, so that money was spent where it was needed, rather than just bolstering local authorities which were bastions of Conservatism. Indeed, one of my minor criticisms is that this rebalancing did not go far enough, as it felt Blair was overly concerned about losing seats in the South, which meant that the redistribution of funds was perhaps not as comprehensive as it should have been. 
But at the time there was also a sense of feeling that this was a new country, a forward-looking and quite cool country. Cool Britannia was in the ascendency and the country's leading popstars and artists were all very keen to be part of the Government led by a bright and energetic Tony Blair.
Looking back, that first Labour Government really lived up to expectations, with a front bench that, in comparison to today, was full of giant figures whose names live on in memory; Robin Cook, Mo Mowlam, Harriet Harman, David Blunkett, John Prescott, Donald Dewar, George Robertson, Tessa Jowell, Margaret Beckett, Alistair Darling, Jack Straw, Clare Short and Chris Smith to name just a few. Major players particularly when you compare them with members of the current cabinet and shadow cabinet, few of whom members of the public can name.
As a pointer for the future, it is my firm belief that Keir Starmer will not win an election until he builds up a cabinet of people who resonate with the electorate. For the first time in many years, with people like Rachel Reeves, Lisa Nandy, Yvette Cooper, Angela Rayner, Wes Streeting and John Healey, he is building a group who can claim to have some of the strengths and personality of those heavyweights of '97.
We could all do with things getting a little bit better!