Coastal camping is too in-tents for some… including me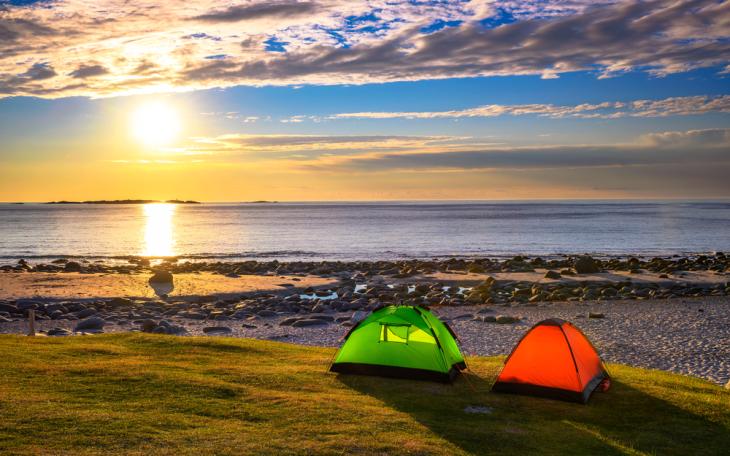 My recent experience of camping gave me a new appreciation for all the planning, patience, and preparation that my father endured making sure our summer camping trips were memorable.
Of course, it was only last Tuesday that I obdurately ignored his advice when he said four men, both with two bags each, a five-man tent, barbeque, cricket set, just a handful of sporks and one stove would not be able to fit into a Citron DS3, nor would they have enough equipment to handle the Pembrokeshire coast.
This realisation first occurred to me when my numb legs – which had fallen asleep just one hour into a cramped five-hour drive – were swept from under me by the force of 25mph winds.
It became even more clear-cut as we realised the tent that had been borrowed from a rather unreliable friend, only had two out of the necessary three poles. My father didn't even think to mention this advice, as even the most inexperienced camper should know to check his tools. But thankfully, there were a host of concerned Welsh campers on hand to ask if this "was our first-time camping".
Therefore, I offer you the following top tips to ensure your camping trip isn't as catastrophic as the attempt from four collectively clueless and anything but prescient city boys.
The first is to know your campsite. The South Wales Coast and the town of Pateley Bridge, where I spent my younger camping expeditions, are very different places. Our mistake was to put up and peg down our makeshift tent – now fully functioning thanks to a £90 replacement pole from Aldi – facing the coastline and suspiciously adrift from other tents perched along the hedgerow. Those ferociously windy nights, coupled with a bed of rocks to toss and turn on, gave me a profound love for sleep and our tent a new shape that resembled Jedward's haircut.
Secondly, wipes or swimming costumes are essential. Well, they're not if you don't mind showering in the wild as onlookers drive-by gesturing with admiration or in aghast. I couldn't tell.
And finally, don't prioritise cricket equipment over camping stoves. Between four of you and one stove, it can, surprisingly, take several hours and many water trips to serve hot coffee and cook a full English. But your batting spell at beach cricket can be as short as England's second innings on Monday when the ball is immediately lost in the sea. 
Still, despite the problems, camping gives you the satisfaction that all an all-inclusive simply cannot. Quite like listening to the radio and putting up with a host of unpleasant songs before the sweet mellifluous sounds of your favourite comes on or mending a retro car that is destined to break down, the art of camping will never die because of those few moments of satisfaction and relaxation with friends that are earned from patience and hard work.
Plus, I am now, even more so, looking forward to my trip next month to the Portuguese coast to recover from those physical aches and mental pains left by my trip to Pembrokeshire.