Can fashion fix its 'sustainability crisis'?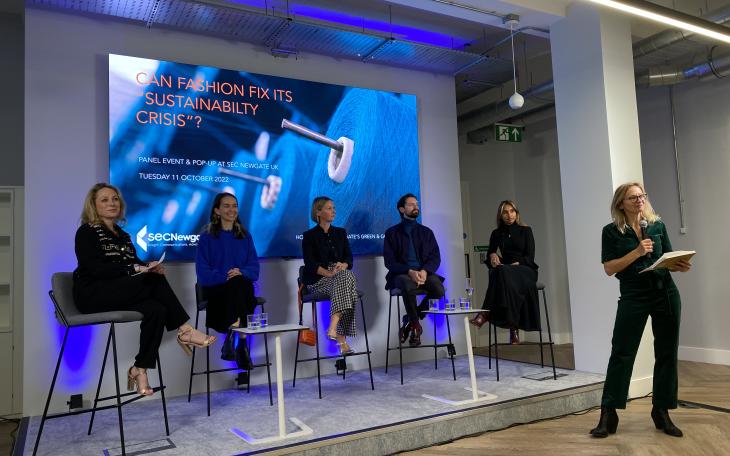 The fashion industry has an image problem – as if it didn't have enough on its plate with rising inflation, a UK recession and unstable global market conditions. According to a recent report from Changing Markets Foundation, 74% of UK consumers either distrust or are uncertain about green claims made by fashion brands. This is echoed by research carried out by the sustainability verification tool Compare Ethics, which found that just one in five European consumers trust fashion brands on sustainability, and SEC Newgate's own Global ESG Monitor (out next week) which ranks the industry down there with mining.
Successive greenwashing exposés, where retailers and brands (including BooHoo, H&M, Nike and Zara) have been outed by activists for misleading the public with their green creds (or just overselling) and have masked much of the genuine progress that's been made on ESG in the sector. Then in June, the US Sustainable Apparel Coalition (SAC) was forced to suspend its Higgs Materials Sustainability Index (MSI) certification - used by many major brands including Amazon - after Norway's consumer watchdog found it was misleading consumers.
This was the background to SEC Newgate Green & Good's panel event on Tuesday night entitled, "Can Fashion Fix its Sustainability Crisis?" hosted by Naomi Kerbel, one of our UK Director, Communications. George Harding-Rolls, the campaigns manager from Changing Markets Foundation and brains behind the Greenwash.com brand exposé site and Fossil Fashion report, debated the issues hotly, alongside three inspirational sustainable fashion entrepreneurs and thought-leaders: Sabinna Rachimova, lecturer and founder of SABINNA, Genia Mineeva, CEO/founder of BEEN London and Eshita Kabra, CEO/founder of ByRotation.
Harding-Rolls outlined to the audience exactly why greenwashing was so damaging: "1. It collectively blinds us to the level of change that needs to happen – in a year where we've experienced the hottest summer on record; 2. It misleads consumers into buying products that are purporting to do something for the environment that they can't back up; 3. There's the competition issue – small sustainable brands who have really done the legwork have to compete against bigger brands."
Mineeva and Kabra both went into business to right what they saw as fashion's wrongs. BEEN bags began as an "experiment" when Mineeva was doing a degree in Sustainable Value Chains at Cambridge – she wanted to see if she could make something "beautiful" out of landfill materials. She succeeded beyond her wildest dreams: Vogue has labelled BEEN "one of the most innovative fashion companies in the world."
Kabra, who comes from a banking background, was honeymooning in her motherland Rajasthan, when she saw first-hand how textile waste from Europe was being dumped in her hometown. It made her feel "guilty" about the holiday clothes she'd bought and got her thinking about the sharing economy. "On average we all have 70 items in our wardrobe, and we wear 30% of those. So why not just share what you have with each other? And make some money. It seemed like a pragmatic solution." On her return to London, she raised funding for the world's first social fashion rental app.
Rachimova, on the other hand, was working as a designer for a big fashion house but was appalled by what went on "behind the scenes" – especially the worker conditions – so she broke away to set up her own label, which has become "a playbook" for sustainability. "I thought, what can I do differently? First we started to work with deadstock materials, then we started to eliminate all synthetics from our garments," said Rachimova. That was no mean feat on a start-up budget, but she achieved it and now uses Compare Ethics to verify all aspects of her supply chain.
Mineeva, a former journalist and campaigner, chose to "prioritise affordability and sustainability" over higher profit margins by bypassing the wholesale model and going direct to consumer. Despite looking and feeling like luxury, BEEN bags are made entirely of recycled materials: the syn-leather is made from landfill materials, the linings are made from the threads of old uniforms and even the zips are recycled plastics. In the beginning, BEEN used blockchain for supply chain transparency and Mineeva highly recommends it as a solution: "It made full life cycle analysis of our products and calculation of our carbon footprint super easy."
Both BEEN and SABINNA pay their makers in the UK a living wage. They also have to top up their profits by offering consultancy to larger brands and by doing collaborations. Mineeva has recently created a limited edition bag out of F1 banners, for example, and works with DHL and Netflix.
But the panel agreed that the biggest barrier to the wider uptake of ethically-made clothing was price – and that barrier is getting higher with the cost-of-living crisis. The overarching trend on the high street is consumers choosing cheapness over sustainability. For Harding-Rolls, that's nothing new, and why, he says, there's only one way to fix fashion ­– from the top down.
"I question the prevailing model of the past 30 years where shopping sustainably is an individual choice – it hasn't worked," he said. "We need regulation, subsidies and incentives… so these business have no choice but to become sustainable... We need to see advocacy for correct policy." In his view, the industry can never fix itself if "those who have the most to gain from greenwashing are being put in charge of making that change." He cited the plastics industry, which is "two years ahead of textiles in terms of regulation" and how with mandatory levels for recycling rates, real market change is starting to happen.
The growth of the fashion circularity movement in the form of resale, reuse and rental models was welcomed by all the speakers as a broadly positive development (despite the fact it has already been hijacked as a marketing tool by fast fashion brands). The global resale market is expected to grow 11 times faster than the broader retail clothing sector, according to GlobalData, and the market is set to double to $77bn in five years. Start-ups like By Rotation are direct beneficiaries of that trend.
For Kabra, the answer to fashion's crisis lies with the consumer, not with brands who will never "cannibalise" their sales. "Buy less, buy better and rotate more," she summarises. She sees herself in the business of "changing habits". At check-out, for example, customers are nudged to think about their environmental savings when they rent.
The whole question of "degrowth" was a hot topic with the panel. While descaling might be anathema to big brands, for Rachimova, it is a strategic focus. "We've been degrowing our product line for a while because I do not see a future in continuously producing new products." Because she knows what her customer wants, she's been able to scale down to five product drops a year, while remaining profitable. The online shop also offers rental, upcycling and repairs for life.
By the end of the allotted hour, it was clear fashion's sustainability crisis was far from being solved. If the industry is to come close to net zero, change must come simultaneously from the top, the middle and the ground up. That means tighter regulation and certification and systemic change from within fashion houses and retail organisations, as well as changing consumers' habits. Circularity might be the biggest growth trend to hit the fashion industry in recent years, but it's not going to save it, or the planet.
To hear more from the event, listen to our latest In Conversation With podcast episode.