A first-timer's guide to MIPIM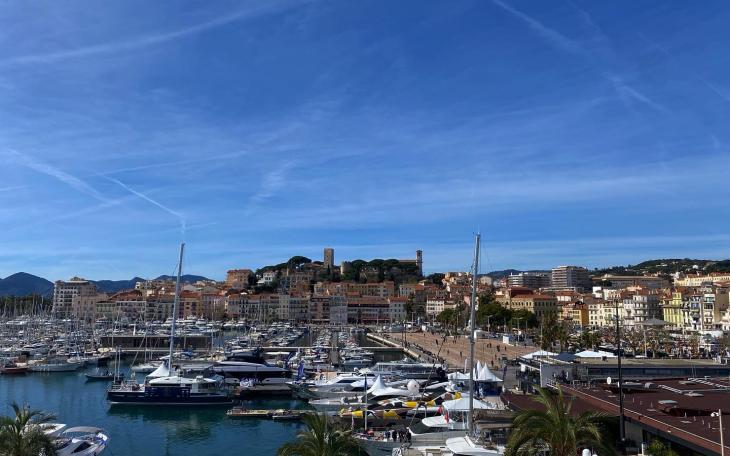 Each year at MIPIM, the biggest names in the real estate industry travel to Cannes, France to share ideas, discuss emerging trends, build new relationships, and, let's be honest, indulge in a glass or two of rosé in the warm March sun. 
Last week, eight of our property experts joined thousands of other professionals from all over the world at the annual MIPIM conference – two of them for the very first time.  Below, Account Directors Matilda Hartwig and Alina Haritonova share their experience attending the whirlwind conference and detail their top tips for future MIPIM newbies. 
As first-time attendees, we were both excited and nervous about what to expect. In the weeks leading up to the conference, our colleagues recounted their experiences – late nights, early mornings, lots of running around to and from meetings, but most importantly, unbeatable opportunities to make new connections across the sector. 
To prepare, we read the plethora of MIPIM guides available online, which provided good insights on what to pack, which cafes and boulangeries to head to for the best croissants, and delicious (but reasonable!) restaurants to take prospective clients and journalists to. Before landing in Cannes, we filled our diaries with the best keynotes to attend, trawled the internet for interesting fringe events and reached out to property journalists, existing clients and new business prospects to catch up with throughout the week. We were preparing for a very busy few days! 
Upon arrival, we were immediately struck by the buzz of the city and the sheer scale of the event. With over 23,000 participants, 2,400 exhibiting businesses, and 100 conference sessions – along with the multitude of fringe events – we knew that what little space we had left available in our diaries would soon be filled. 
One of the highlights of the week for Alina was attending a breakfast event that SEC Newgate helped organise for one of its clients, which focused on the ways in which the private and public sectors can work together to drive successful regeneration projects across the country. Another highlight was a more intimate gathering that took place on the last day of the conference – the EG Editor's Dinner – where industry insights and anecdotes were shared over a glass of wine and delectable food, rounding off the busy week.  
For Matilda, it was the informal chats with industry peers over an espresso, a croissant or a glass of wine. These catchups often flowed from introduction to introduction, with initial one-on-one meetings transitioning into small groups of lawyers, developers, planners, investors and little ol' communications consultants. 
Another highlight was the strong contingent of women in attendance at this year's event, and the sense of community that was created by the likes of Women in Property and MIPIM Ladies. While MIPIM is still very much male-dominated – notorious for its all-male panels or 'manels' frequently called out by the Twitter account MIPIM Lads – the female-focused events and networking opportunities that were held throughout the week provided a refuge from the sea of blue suits and connected us with some very impressive women. 
Now that we are back at our desks in London, having spent the weekend recovering, we have compiled our top tips below. We hope it helps other MIPIM newbies: 
Wear comfy shoes or pack a pair of sneakers and plasters. You'll be walking a lot throughout the week and will likely accrue more than 20,000 steps a day 
Book meetings and coffee catchups a month or two before MIPIM. Everyone's diary fills up quickly, so the sooner you start reaching out to people the better 
However, don't fill up your diary too much. Leave space for the odd spontaneous invite or to allow some meetings to merge with others – you never know what will happen on the day 
There are also loads of fringe events that are worthwhile attending, so definitely look for events outside of the formal MIPIM conference space 
You may not have time to make it back to your accommodation during the day, so make sure your outfit can take you from day to night, warm to cool 
Don't forget your sunglasses, sunscreen and umbrella! The weather can be unpredictable, so be prepared 
If you can, create a QR code to share your marketing materials. Hard copy versions will be left behind (or thrown out), so this is the best and most environmentally friendly option 
If you're female, take advantage of Women in Property – become a member, join their WhatsApp group and RSVP to their events. It's worth it. 
Pack some snacks before you head out for the day. There is no shortage of restaurants and cafes in Cannes, however, supermarkets are sparse, so finding somewhere to buy a mid-afternoon snack may be more challenging than you realise  
Be proactive – connect with new contacts on LinkedIn as soon as possible and attach a brief intro note to remind them of where you met – don't expect people to remember you after a week of relentless networking, often after a few glasses of bubbly in the sun