Love Island has coupled up with eBay but will their relationship be sustainable?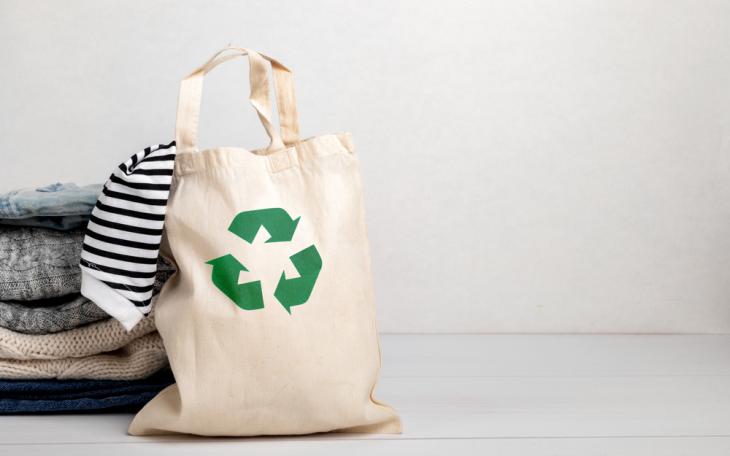 By Naomi Kerbel
Love it or loathe it, as soon as the first letter of the month turns to J, the reality show Love Island is EVERYWHERE, from slogan tees to water bottles to wash bags.
Cue googles of 'Ling', 'The Ick' and 'Bev' soaring.

Whether you're invested in Ekin-Su and Davide having a crack at the £50k pot or not, there is no denying that the show is a huge hit for its makers, ITV. 
Last year's series was the most watched TV show for the coveted 16–34-year-old demographic and brought in close to £73.5 million in lucrative sponsorship deals with JustEat, Spotify, Tinder and others.
In terms of fashion, past shows have coupled up with fashion brands like I Saw It First and BooHoo and Islanders have gone on to create collections for sites like Pretty Little Thing.
These deals add fuel to the fire pit that is fast fashion. The market was valued at $88.9 billion in 2021 and is projected to reach $126.8 billion by the year 2028.

But the show's makers have faced backlash for promoting fast fashion. There has been criticism of poor standards for workers and major concerns over the environmental impact, including greenhouse gas emissions, water pollution and consumption and landfill wastage.
In response, ITV studios have made a major shift. The online marketplace eBay is the new sponsor for 2022.
eBay and ITV are not new bedfellows. They partnered last year for Climate Action Week as  part of the business's Home Planet social purpose strategy - a commercial initiative that brings together brands with sustainable products and services to showcase the changes that audiences can make to live more sustainably.
Unlike previous shows, viewers won't be able to shop contestants' exact looks but will be able to shop a look of the looks. The aim is to help fans "find the pre-love of your life" from the girls' short sequin minis, to the boys' glitter jackets which were showcased at the islanders' first pre-loved 'Shimmer & Shine' party.
Amy Bannerman, eBay UK's Love Island stylist and second-hand enthusiast, says she looked to the runway for inspiration, from Tom Ford to Versace to Loewe.
A former colleague of Amy's is fellow vintage and pre-loved enthusiast Emily London, and she was the guest on my podcast Show Me The Way last week.
Emily is a former fashion and beauty journalist for Tatler and Vogue and e-commerce exec for Net-a-Porter's TheOutNet and Refinery29 and like Amy, she believes everything a person needs to wear or use is already in existence.
She doesn't think the eBay tie up will lead to an overnight reversal for fast fashion but is optimistic that it will result in a long-term love affair for some:
"It takes a really long time to unlearn how to shop in a particular way – to be led by trend, led by influence, led by brands."
And in this episode of the podcast, she offers some tips and tricks on how to buy the best pre-loved.
Emily believes the key to it all is finding your own style confidence, or "sauce" as the islanders would put it.
It's definitely not about your "bev's" (or your mother's) approval.
If you can manage that, Emily says, you can make a real difference to the planet and to your pocket.
CLICK HERE TO LISTEN TO SUSTAINABLE FASHION STYLIST, EMILY LONDON ON THE EBAY LOVE ISLAND COUPLING