Property Must Hold Its Nerve on Net Zero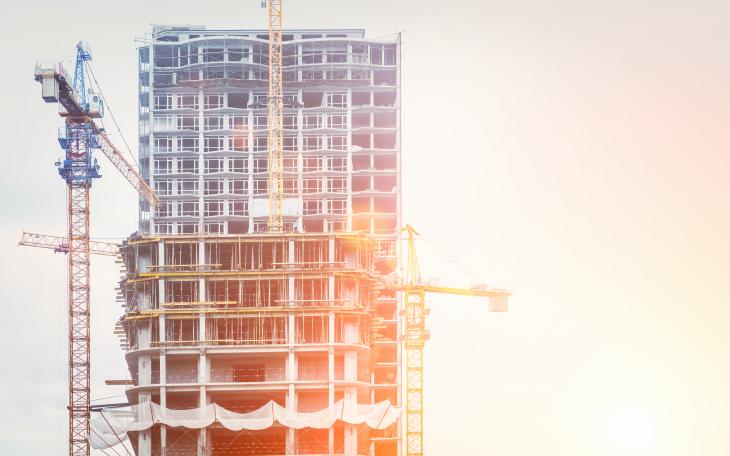 By Alli Hayman
Love is All Around by Wet Wet Wet was the soundtrack to the summer of 1994. The Scottish band's single for the film Four Weddings And A Funeral spent 15 weeks at number one from June to September and was inescapable, even for those of us more excited by Blur and Oasis.
Many of you will know the song of, course, but the real test is whether you can remember what replaced it at the top of the charts: Saturday Night by Whigfield, an oddball Eurodance hit.
What's all this got to do with the race to net zero? Well, if you can recall the summer of 1994 then, like me, you probably feel that it's not ancient history. Our lived past has a funny way of feeling both recent and distant in a way that events before our time don't – 28 years goes fast and slow.
28 years is also the same length of time until 2050 when, if we are to avoid catastrophic climate change, the world will need to have delivered the net zero future we are now all so focused on. The race is on. Not against each other, but against time and the heating of the planet.
This makes the current moment all the more worrying. Just this week the G7 nations have been accused of backsliding on net zero commitments, as pledges to halt fossil fuel investment are watered down against the Ukraine back drop; meanwhile, the yearly stocktake of the UK government's commitment to climate change found "scant evidence" of delivery against headline targets. Elsewhere, ESG investment strategies are in crisis and stakeholder capitalism is under fire. Yet as our colleague Andrew Adie argues, business must holds its nerve in the face of this onslaught, because commitments to sustainability, social impact – or more broadly 'purpose' – are not about 'woke' window dressing, but are an investment in all our futures.
This is particularly true of property. Built assets are a long-term play. Real assets must be future proofed against the changing climate and tightening regulation. Asset managers with 'brown' buildings will soon find they are unlettable. The value of those that require the greatest investment will likely revert to the value of the land they stand on. The clock is ticking.
As an industry, property can't really afford to waver in its net zero commitments in the face of economic headwinds and geopolitical instability. As other sectors row back on ESG, and the government sends out mixed messages on its own commitments, property must forge ahead.
This means property has an opportunity to play a leading role in debates around the transition to net zero, which will be neither easy nor smooth. There will be winners and losers and many moments, like now, when those that question ESG strategies or doubt the climate science gain traction. The built environment can have a strong voice in these debates and take the lead as others falter.
But first it must get its own house in order. With the built environment accounting for around 40% of global emissions, the challenge is huge. If the cement industry were a country, it would be the third largest emitter in the world, behind China and the US. Best practice in the industry is to achieve net zero by 2030, but size matters and for the bigger players - asset managers with huge portfolios – 2040 or 2050 is the aim, with reductions gathering pace over the coming decade.
Setting a target is one thing but delivering on it is something else and property has a dual challenge: tackling both operational carbon (around three quarters of its emissions) and embodied carbon (the remaining quarter, or so). For every shiny new net zero office building in operation, there are many more existing offices, aging and inefficient, that will need deep rehabilitation to improve their performance. Not to mention our housing stock - a bigger problem still. By some estimates, 80% of the buildings that will be in use in 2050 have already been built.
Reusing, recycling and retrofitting are therefore an important part of the solution and have the added benefit of being positive when it comes to embodied carbon. The #Retrofirst campaign, led by AJ magazine, has shone light on the need for greater reuse of existing buildings and has rightly called for tax incentives that work against refurbishment to be removed. As the City of London has recognised, the planning system can also be used to encourage a greater focus on refurbishment.
The office sector represents a small part of a much wider challenge. To improve the efficiency of housing will require huge investment, something perhaps finally being acknowledged by government, if reports of a new home insulation drive are to be believed (it is not to be called Insulate Britain mind you, even if the campaign group are happy for the government to take its name).
Alongside housing there is infrastructure and the whole gamut of real assets. It's easy to be overwhelmed by the extent of the challenge. But as one of the largest asset classes in the world (worth more than $326 trillion dollars), property has a strong story to tell about how this challenge is also a gargantuan wealth creation opportunity.
The smart heads in real estate understand that future profitability depends on action to decarbonise built assets now and that, far from being in opposition, profit and purpose are entirely aligned. Those in the industry leading the way in decarbonisation should step forward and continue to make the case for the opportunity presented by the transition to net zero.
Real estate also has a strong social story – the less often discussed 'S' in ESG. From job generation to the transformational impact of large-scale regeneration, properly done, the socio-economic impact of real estate on communities can be positive and enduring. Too often this story is subsumed by narratives of gentrification. But that doesn't mean the positive impact is not real. The industry needs to communicate it better and be louder and prouder about what it can achieve.
With its necessarily long-view and hardwired purpose – to create future proofed assets; sustainable communities; resilient infrastructure – property should not be shy about raising its voice in the debates around net zero and ESG.
As others lessen their resolve, the industry's leaders and innovators can hold everyone's feet to the fire. Wavering now will bear a huge cost later and the urgency of what needs to be done demands a resolute focus. Afterall, 28 years may seem like a long time, but it will pass in a flash.