Sub title

Respect is at the heart of everything we do
Working with us
Here we hope you'll get a flavour of who we are, what we're about and also find opportunities to work with us. We've also included some standout examples of our work, to showcase the talented team you could be part of. You will find all our current vacancies at the bottom of this page.
DISCOVER MORE ABOUT OUR TEAM CULTURE
WHY SEC NEWGATE UK?
We are really proud of our culture. Our core value is respect and is at the heart of everything we do.   
If you join our team you will be entitled to: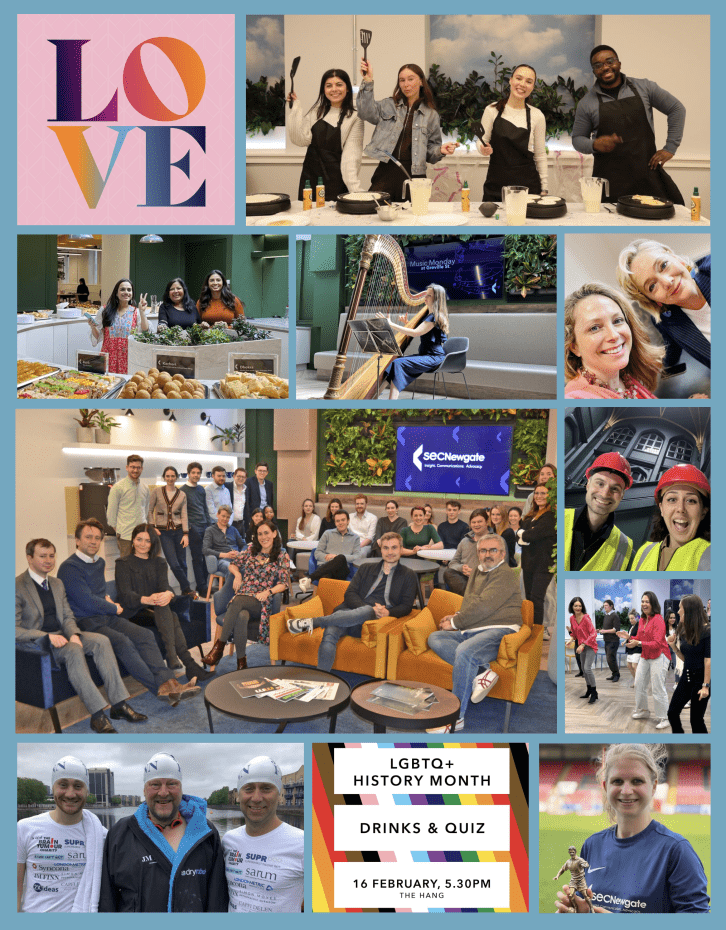 30 days annual leave, with the option to buy or sell some each year. Did we also mention an additional day off for your birthday?
A day off annually to be of service to a registered charity of your choice.
The option to work up to four weeks a year abroad as part of our remote work policy. You can even tag some holiday on too!
The option to work in a hybrid way – 60% in the office and 40% from home.
The ability to work flexibly with daily core hours between 10am and 4pm.
Support with your mental and physical health, with our Employee Assistance Programme, Private Medical Insurance and onsite mental health first aiders.
Our mentorship and learning and development programmes to set you up for success
A FORCE FOR GOOD
We have a Charity Committee responsible for driving forward the company's not-for-profit activities and managing relationships with our third sector partners. 
HELP FOR REFUGEES
In 2022, in response to the war in Ukraine, SEC Newgate donated one day's salary (for every employee across our group) to UNHCR, the UN Refugee Agency and one additional day's leave to support local initiatives responding to the tragic humanitarian crisis.
WORK WITH A B-CORP ORGANISATION
We're in the final stages of our B-Corp accreditation. We're serious about ESG. Our business operations are centred around respect for our clients and colleagues, the communities we work with and the planet we live on.
OUR PEOPLE
Our people are at the heart of everything we do and their experience at SEC Newgate is so important to us. Our ambition is to create a working environment where everyone can thrive. We meet the ambition and drive of our people with the opportunities and support to build a successful career.
Working at SEC Newgate
At SEC Newgate we offer a career path, not just a job. We have some impressive tenure here and the success stories speak for themselves. We embrace entrepreneurial spirit and provide opportunities to build a successful career.

 


 
As a strategic communications and advocacy group with global reach and local expertise, you have the opportunity to work across the full communications spectrum. You will be working with a range of high-profile clients, operating at the heart of business, politics, communities, markets and media. 
You will curate a diverse portfolio of client accounts and projects, contributing to those that benefit most from your knowledge and experience. In this way, you will develop your expertise and expand your repertoire, taking your career to the next level.
As well as industry-leading holiday entitlement and a day off for your birthday, we offer a comprehensive private medical insurance plan and benefits scheme, as well as hybrid and flexible working. 
Our mentorship and learning and development programmes allow you to develop your skill set. Learn from the best with our calendar of in-house courses: from lunch and learns, where colleagues share best practice, to sessions with external facilitators, and inspirational talks from impressive individuals.
You can part in our cycle to work scheme, join our book club, or our LGBTQ+, ethics, or social committee or our mixed football team – or do it all! If you have your own ideas, then we want to hear them too and if you prefer a more relaxed approach to the extra curriculum activities then that's fine too. Should you wish to live and work elsewhere in the UK, we have offices across the country and can facilitate a transfer. You could also take advantage of our remote working policy and work up to a month (each year) in a country of your choice.
STRATEGIC ADVISERS
We have a team of 130 consultants in the UK, working with a global team of over 1,200 professionals across five continents, providing clients with around the clock counsel and support, implementing campaigns locally, nationally and internationally.
RECENT AWARDS
In recent years we've lost count of the number of awards and shortlistings the team has achieved globally. In the UK, it's over 25 in 2022/23 alone.
Opportunities at SEC Newgate
If you like what you've read and would like to explore opportunities, then take a look at our list of current vacancies. Nothing matching your skillset? Please feel free to send us your CV and tell us a little about yourself and what you are looking for.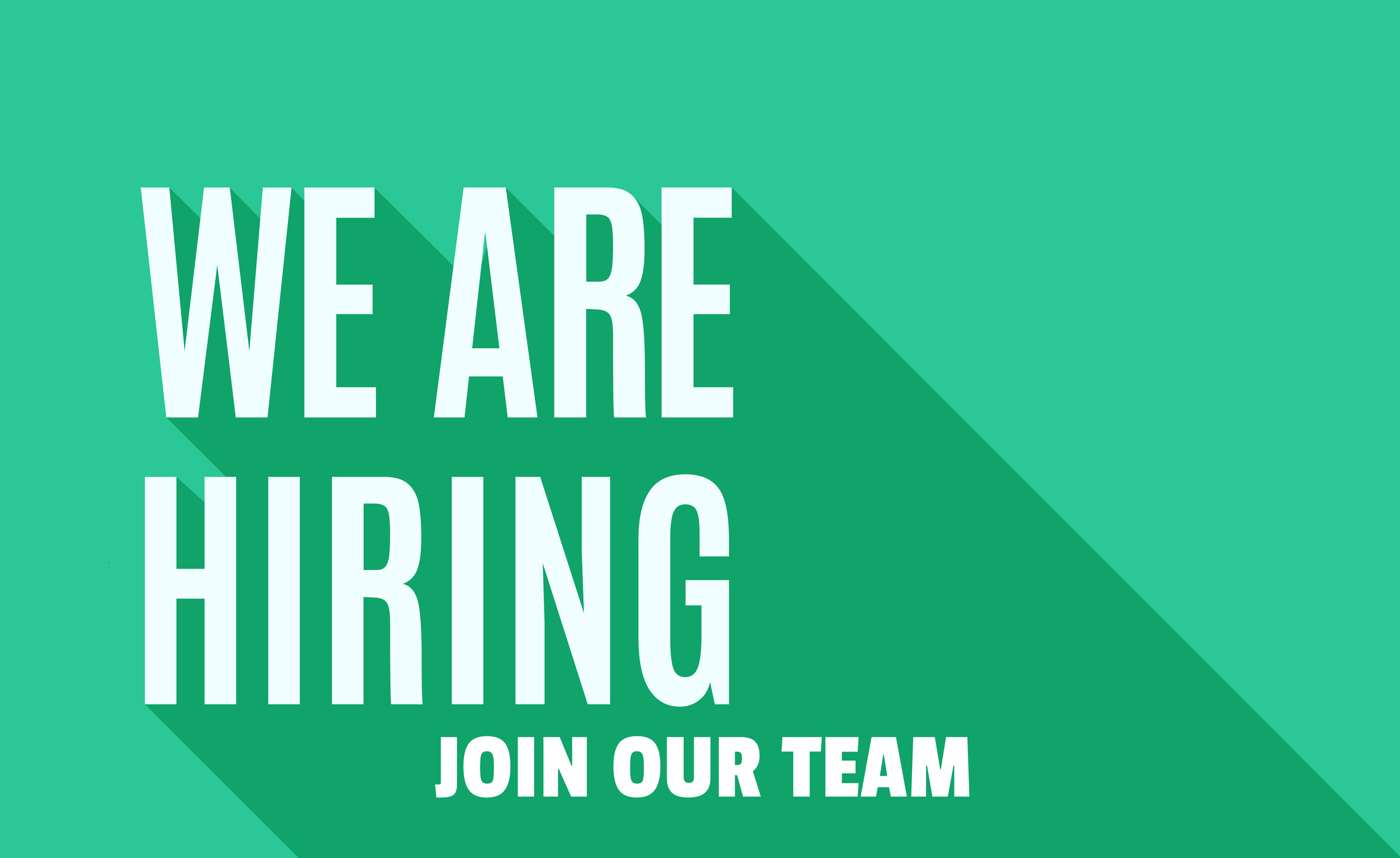 Associate Director, Quantitative/Mixed Methods Researcher
We are looking for a Quantitative/Mixed Methods Associate Director to support the expansion of our Research team. The Research team is part of The Lab, the insights hub of SEC Newgate UK; comprised of researchers and experts in digital and brand strategy. In The Lab, we pride ourselves on designing the right solution for our clients' needs, agnostic of the method. This is a brand-new role and a really exciting time to join us as we grow.
Corporate Reputation (Green and Good)
We are looking for a Senior Account Executive who has a strong interest in and experience of social and environmental impact, ESG and Purpose to join our Corporate Reputation and Green & Good team in London. Ideal for someone who thrives on helping organisations develop and communicate their strategy as they transition to a world of purpose and profit...
We are looking for an Analyst who has a strong interest in local public affairs to join our Advocacy Local team in London. Ideal for someone who thrives on engagement with members of the public and who can communicate with people in a clear, concise, and empathetic manner. In this role you will support the team with day- to-day tasks to contribute towards the smooth running of client accounts whilst gaining an insight into what the business does, and the tools used to deliver results for clients...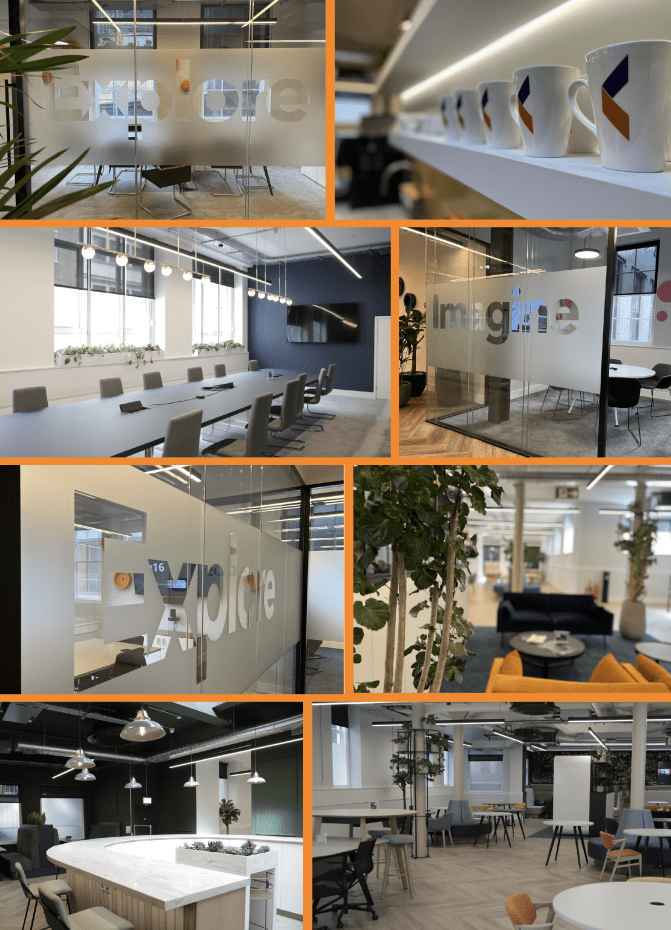 Our offices
Our largest UK office is located in Farringdon, London. We moved in back in early 2022 (pictured left). It's a beautiful, light and collaborative space. Each floor is unique and offers a flexible working environment as well as a wonderful entertaining and presentation space on the ground and lower ground floors.
We also have smaller offices in Birmingham, Bristol, Cardiff, Chelmsford, Edinburgh, Leeds and Manchester.

Our global footprint includes our HQ in Milan and 50+ offices throughout the US, Europe, Middle East, Australia and Asia.