Greater Manchester local election watch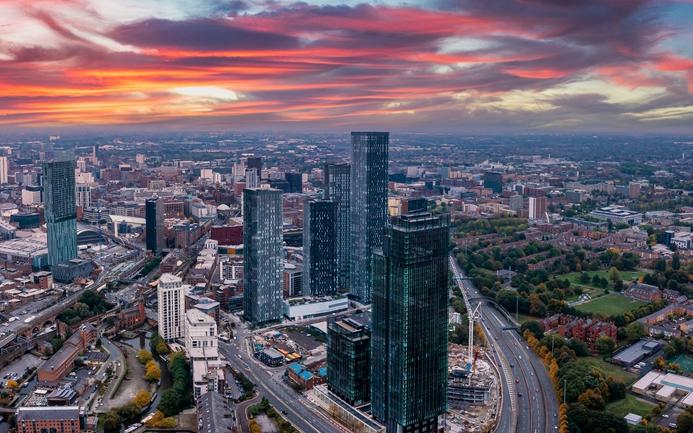 George Thomas from our Manchester office takes a look at electoral prospects in Greater Manchester, where nine of the ten councils are electing thirds, and Rochdale is all-out due to boundary changes.
Trafford
One Greater Manchester local authority that is always worth keeping an eye on is Trafford, where a third of the 63 seats are up for grabs. The Conservative Party has experienced declining fortunes here in recent years - the 20-seat majority it received in the all-out election in 2004 seems a distant memory. The Labour Party now enjoys a 17-seat majority of its own, with Labour's Andrew Western leading the council since 2018.
The Conservatives haven't filled their supporters with much hope in recent weeks, receiving criticism for publishing a call for candidates that suggested they were struggling to contest all the available seats.
The Greens will be hoping they can convert last year's impressive vote share into more seats; three seats in Altrincham is all they have currently. The Lib Dems fell behind the Greens for the first time in 2021, and it would appear they will have a job on their hands if they are to win any additional seats this time.
Meanwhile, Labour has set out its battlegrounds. The party is already campaigning hard in the Brookland and Ashton Upon Mersey wards. In both wards, which the Conservatives held narrowly last year, Labour is trying make it three out of three councillors in traditionally Conservative ground.
Planning committee members Cllr Simon Thomas and Cllr Louise Dagnall are up for election this time around, but should have no difficulty in their safe seats. While no current planning committee members are at risk of losing their seats, a post-election reshuffle of committees is likely if the makeup of the council significantly changes. The committee is broadly unpartisan despite the Labour majority, with Labour members regularly voting against the Chair and officer recommendations. If Labour does secure an increased majority, it may give the leadership the opportunity to add to the committee members who are more likely to "toe the party line" on applications before them.
Manchester City Council
Labour will be expecting another dominant display here, in what will be BeV Craig's first election as leader. They will, however, be concerned about February's by-election result in Ancoats and Beswick, where the Lib Dems' Alan Good beat Labour's Gareth Worthington by 320 votes. As the by-election was triggered by the resignation of Maricia Hutchinson, who publicly accused the local party of bullying, Labour will hope the result was an anomaly.
The seat to watch will be Didsbury West, the seat of former Lib Dem MP, the architect of "Turing's Law" and the now leader of the opposition on the council, Cllr John Leech. Labour secured a narrow majority of 241 in Didsbury West last year, but the Lib Dems will be going all out to keep hold this valuable seat.
Cllr Leech is one of four planning committee members up for election this year. The makeup of the planning committee is unlikely to change much after the election, which is comforting for Manchester developers, who do not tend to come up against as much pushback as they do in Trafford.
Bolton
Labour has had a difficult time here in recent years. Since 2018 they have gone from 31 seats to 19, handing control to the Tories who now rule in coalition. Local groups have a big influence on elections in Bolton, and Labour will need to win over the voters of these groups to have any chance of retaking control.
Stockport
Over in Stockport, the Lib Dems will be hoping to gain further seats so it can gain control here for the first time since 2015. Despite being the largest party in terms of seats, the Lib Dems are still in opposition after the Conservatives decided to support Labour in power.
Council leader Elise Wilson is up for election this time around. However, the opposition parties are likely to focus their efforts elsewhere given Labour's substantial 1000+ vote majorities in her Davenport and Cale Green Ward in recent years.
Cllr Wilson will be hoping Labour's position in the polls will result in a larger seat share. The current arrangement is precarious for Labour, especially when you consider some of the high-profile legislation that hasn't managed to get through in recent years, the adoption of the Greater Manchester Spatial Framework being the obvious example.
Elsewhere
In the rest of Greater Manchester, Labour shouldn't expect much difficulty in its stronghold boroughs. Salford, Tameside, Wigan, Oldham and Rochdale are all likely to continue the longstanding trend of returning substantial Labour majorities. Although Labour did see its majority cut in Oldham last time out. Rochdale in particular has seen very stable results since Labour regained over control in 2011.
SEC Newgate in Greater Manchester
We'll be keeping a close watch on things over the next few weeks, as candidates are announced, and campaigning gets underway. If you would like any further information about the elections in Greater Manchester or how this could influence your project, please get in touch: george.thomas@secnewgate.co.uk