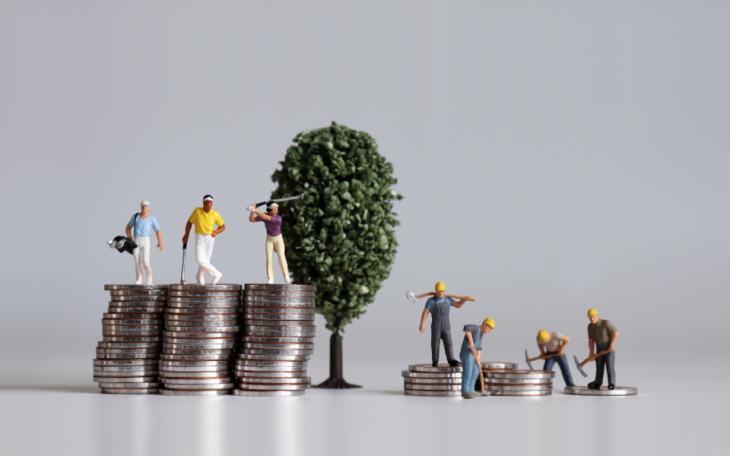 By James Hill, Hong Kong
Never in my lifetime has Charles Dickens' memorable opening to a Tale of Two Cities, "It was the best of times, it was the worst of times, it was the age of wisdom, it was the age of foolishness, it was the epoch of belief, it was the epoch of incredulity, it was the season of Light, it was the season of Darkness", resonated so strongly.
COVID-19 has brutally upended families, livelihoods and economies. Societies and countries remain deeply polarised. Trust in governments and big business, especially in the West, is low.  The rich have got richer, as they always do, with Forbes data revealing that America's billionaires grew their net worth by a collective US$931 billion from mid-March 2020 to mid-October last year. However, there is cause for hope in these turbulent times.
We have seen magnificent acts of individual and corporate generosity.
Deep seated social and racial injustices, exacerbated and exposed by COVID-19, are being discussed with refreshing candour. Innovation abounds. And the world finally appears to be uniting on fixing mankind's enduring crisis of climate change. For corporates, charting a course through this dichotomy in 2021 will define success and reputations for years to come.
In Hong Kong, always a city of contrasts, the divide between rich and poor, winners and losers, is acutely felt. In the first three weeks of this year the Hang Seng Index has risen by nearly 10%, topping 30,000 points last week, fuelled by record inflows of mainland cash. There has already been a plethora of IPOs in the city and almost US$60 billion is forecast to be raised this year.  
The pace of digitalisation and innovation in Hong Kong has been catalysed by the pandemic. The Hong Kong Science and Technology Parks Corp claims there are now nine start-ups valued at more than US$1 billion each in Hong Kong.  The progress being made has the potential to transform productivity, create jobs and upskill workers, and improve customer experiences.
But there is a bleaker underlying picture. The city's unemployment rate stands at 6.6%, the highest it has been in sixteen years. With COVID-19 restrictions continuing, the retail, entertainment and hospitality sectors are on their knees. According to the Hong Kong Bar & Club Association, more than half of bars in Hong Kong could close as a result of the pandemic, affecting some 100,000 workers. And as for the stock market, investors might feel less bullish when the first full reporting season begins in March with a likely swathe of profit warnings.
Corporates are, therefore, operating in a febrile environment awash with opportunities and fraught with operational and reputational risk. 
Against this backdrop, at Newgate we see three key trends that corporates and their communications teams should be on the watch out for in 2021.
Stakeholder capitalism comes good
Firstly, we believe 2021 will be a watershed year for stakeholder capitalism globally and in Asia. As a recent McKinsey & Company commentary observed, "Stakeholder capitalism isn't about being the most woke or about fending off pesky activists. It's about building trust – call it the social capital."
Asian corporates, arguably ESG laggards compared to their Western counterparts, are beginning to realise that reconfiguring their businesses to align with external sustainability agendas will support growth and create value over the long term.
Scrutiny of the words and actions of corporates will be intense. As a high-profile U.S. sporting goods company found to its detriment last year, a nifty monochrome social media ad in response to Black Lives Matter is all well and good, but if there is a conspicuous absence of diversity on your own Board of Directors, you should expect reputational blowback.
Stakeholders are likely to offer short shrift to those companies that pay lip service to ESG and stop short of implementing meaningful change.
A new wave of activism and vocal long holders
While shareholder activism in Asia has been on the rise in recent years, this year could see it evolve in three ways. Firstly, companies could be subjected to a closer assessment of how they responded to COVID-19, ranging from what cost controls were enacted to employee welfare and executive remuneration.
Secondly, shareholder resolutions relating to climate change, diversity and inclusion, racial justice, socio-economic inequality, health and safety and other ESG-related factors are likely to surge.
Finally, in light of widespread digitalisation of all industries and the ensuing increase in cybercrime, shareholders and others are likely to pore over companies' risk mitigation strategies and contingency plans.
It won't be just shareholders that get in on the act. We see an electrification of employee engagement as employees hold their employers accountable for acting on values that prioritise social justice, racial equality, climate change and ethical probity.
We are advising corporates to design communications that are inclusive, authentic, pre-emptive and grounded in reality.
Humility for corporate winners
While COVID-19 has had a devastating economic impact, there have been pandemic winners, with the likes of Apple, Amazon, Tesla, Microsoft, Alphabet, Tencent and a raft of e-commerce and information technology giants seeing market capitalisations swell in recent months.  For the winners, large or small, it is more important than ever that they contribute investment, time and resource to help fix the immediate problems in communities and countries.  They also need to be mindful of director remuneration levels and look to recruit and upskill people who have lost jobs in other industries. It is understandable that communications teams at these companies should want to sensitively acknowledge their business success but the emphasis should be on explaining the role their company can play in improving the common good. Humility is imperative.
2021 could be a defining moment for the business community. Unlike the years following the Global Financial Crisis where big business became public enemy number one, corporates have an opportunity to help heal the world and create a long-lasting bond with society.