#TradeTuesday - Badenoch's first 200 day scorecard: On track but a hill to climb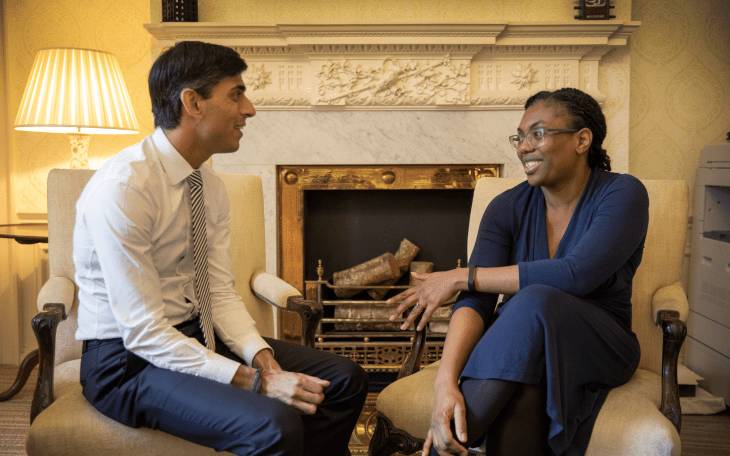 This week marked Business and Trade Secretary Kemi Badenoch's first 200 days in office. While her brief may have slightly changed – now focused on business as well as trade following the departmental reshuffle – it appears she is on track to achieve some of her five trade priorities set out earlier this year. 
Our trade team's James Surallie takes a look at how Kemi Badenoch has performed against her objectives and where more needs to be done as she battles against a steep trade deficit and a Labour Party up in the polls as we approach 'Green Day' this week.
The first of Badenoch's objective was to remove trade barriers, claiming she will knock down 100 unnecessary blockers standing in the way of helping UK businesses sell more and grow more. Arguably, she is on the path to success. According to the Department of Business and Trade, in Badenoch's first 200 days, the department have removed barriers to global markets worth more than £2.2 billion over the next five years – equivalent to over £11 million every day. This has included: lifting the ban on certain pork products to South Korea, including bacon, ham and pork sausages – an opportunity which the National Pig Association says will unlock enormous opportunities for the UK pork sector. 
This linked to her next goal of growing UK exports every year until we hit our race to a trillion as the Department hopes to remove barriers to exporting for a whole host of different businesses. This will be more urgent than ever given the recent ONS figures reporting that the UK is running a trade deficit, made worse by exports decreasing by 6.1% in cash terms in the three months to January 2023 compared with the previous three months. But there is a silver lining as the Food and Drink Federation's (FDF) full-year trade snapshot for 2022 revealed "a huge resurgence in food and drink exports as most categories now exceed pre-pandemic levels, reaching a record £24.8 billion". 
On sealing "high quality deals with India and the CPTPP", it also seems that Badenoch is heading in the right direction. Following a turbulent period of negotiations after Home Secretary Suella Braverman expressed concern that Indian students often overstay their visa, talks are back on track with an eighth round of negotiations scheduled later this spring. Similarly, negotiations with the Comprehensive and Progressive Agreement for Trans-Pacific Partnership (CPTPP) appear fruitful, as Badenoch recently told the House of Commons that they hope to join the trade bloc "imminently". 
Despite this optimism, the success of these negotiations will depend on how "high quality" they are perceived. Given the vast criticism the government received over the Australia and New Zealand deal, particularly the impact these free trade agreements would have on the British agriculture sector, Badenoch will be keen to avoid repeating the same mistake. However, this could be tricky with recent reports suggesting that Mexico and Canada – members of the CPTPP – are pushing for the UK to offer the same market access it granted on agriculture as it did in agreements with Australia and New Zealand.
To steer against this and work towards her goal to make the UK the undisputed top investment destination in Europe, she has worked strategically to enable investment and secure supply chains for vital products with friendly partners such as Canada. By the lifting of the ban on foreign investment in renewable energy in the Philippines, investors from overseas could boost the UK's wind and solar industries.
Moreover, earlier this month DBT Ministers signed a landmark agreement with Canada to co-operate on critical minerals, which are to be used in green tech. Cobalt and lithium for example, used in battery packs for smartphones but also solar panels to electric vehicles.
As the semiconductor debate has kicked off, demand for certain materials is expected to rise by as much as 500% by 2040, as electrification drives decarbonisation efforts and technology becomes more embedded in everyday life. In aid of meeting this demand, the UK's Critical Minerals Strategy is set to be refreshed later this year. Timely as Labour Shadow Secretary of State of Climate Change and Net Zero, Ed Miliband todayexplains how Labour's Green Prosperity Plan will invest to drive jobs in green industries – blueprinted against the United States' Inflation Reduction Act. 
As we look towards "Green Day" on Thursday, Miliband called out Badenoch's reaction to the Inflation Reduction Act which she called "protectionist" by saying "Of course, we must remain an open economy, welcoming foreign investment and goods. Not everything in the green economy could or should be produced here. But we are not neutral about where things are built." 
With as little as 18 months left until the next election, Badenoch and her colleagues in the Cabinet will be hoping to show as much impact as possible against their objectives and really showcase what Global Britain has to offer.
Photo credit HM Treasury