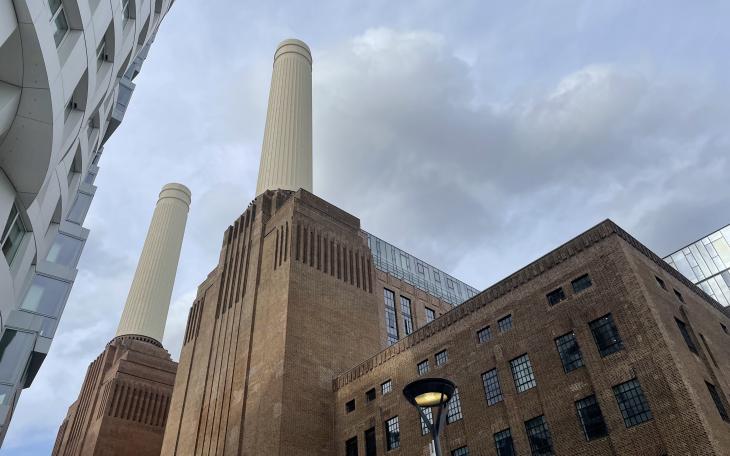 The adynaton 'when pigs fly' has probably been applied to Battersea Power Station a lot of times since it closed in 1983. Once, of course, extremely literally when a giant inflatable pig was released to float between its chimneys for the cover shot of Pink Floyd's 'Animals', and then many other times, more figuratively, when asked if it would ever open again.
But it seems - as Algie the Pig confirmed - that when it comes to Battersea Power Station, pigs can indeed fly. Last weekend, the gargantuan brick building threw open its doors to the public to reveal a whole host of restaurants, shops, cafes and a cinema set within three storeys of cool, refurbished industrial space - the rest reserved for multi-million-pound flats and offices. Outside, 'Electric Avenue' (currently more of a throwback to the building's past than a buzzing, busy hub) winds around the building's exterior to the Thames riverside, where you can promenade down the Coaling Jetty and take in the surrounds of Prospect Park. 
As a newly transplanted south-west Londoner, I was particularly excited at the prospect of the Power Station opening, not just for giving this end of the Northern Line its own landmark attraction (aside from Infernos) but swiftly putting to bed the need to venture to Westfield(s), or heaven forbid Oxford Street.
Many features of the Station are yet to materialise – empty shops still make up about half of the total floor space, with blade signs etched with Chanel and Penhaligons illuminating promises to open next year. Restaurants are currently few and far between and the much-anticipated opening of Lift 109 – hurtling visitors up to a glass viewing platform at the top of one of the station's chimneys is TBA. 
Despite all this, there is no denying that the aesthetic result of the decade-long refurbishment is a resolute success. It really feels like you're inside a power station – with gantries and girders still rusted onto the ceiling, tiled white pillars offset against the restored brickwork, and Art Deco windows offering a glimpse of the painstakingly restored control stations. It is like stepping back in time, a feeling then at once sharply contrasted with a Poke House to your left and a cocktail being shaken up in Control Room B to your right. 
Perhaps the most surprising moment of the day, however, was the sheer volume of people waiting on the platform at Kennington to pack onto the specially opened stump of the Northern line. Usually practically vacant, the Power Station's opening has appeared to breathe life into this often-forgotten corner of the southwest, which on Sunday teamed with a genuine diversity of Londoners curious to take a look inside. The question is: is it sustainable?
As Paul Miles in The Telegraph points out, converting a power station into a luxury shopping mall as we stare down the double-barrel of an energy and cost-of-living crisis is ironic, to say the least. Add on top the multitude of controversy and outrage that has followed the building over its 10-year renovation and it's clear that regeneration was never going to be easy. Let's hope that when the hype dies down and the platform at Kennington is back to its usual speed, the Station can still hold its pulling power.