Barcelona is blazing a superblock trail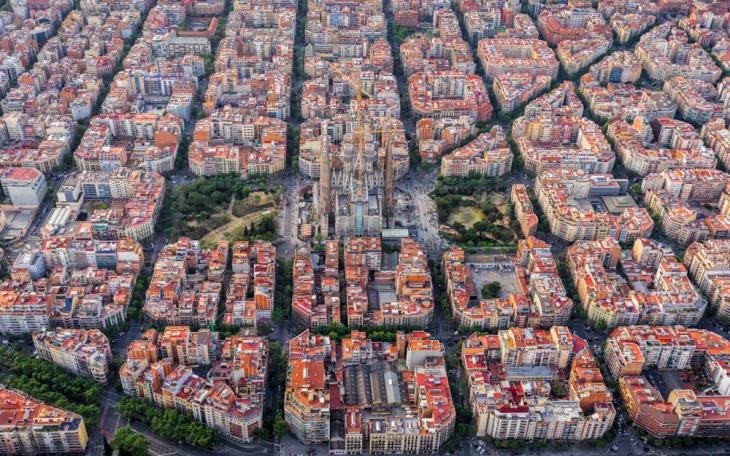 By Emma Goodwin
Recently, as I was wandering the streets of Poblenou – one of Barcelona's coolest and most creative neighbourhoods – I came across a rather confusing sight. 
I'd walked down a strangely quiet street and found myself at the centre of what should have been a busy crossroads. Except, there were no cars. In their place, there was a short running track, a series of picnic benches and a children's play park. It was an average Friday morning, and the area was humming with activity – kids playing, parents sipping coffee at the neighbouring café, older people playing card games, and many others just sitting on benches and watching the world go by. 
I'd unknowingly stumbled across one of Barcelona's 'superblocks': a grid of nine city blocks where traffic is only allowed around the perimeter, and in the middle, priority handed over to create public space. 
In fact, Poblenou's superblock is one of Barcelona's earliest. While the very first was implemented in 1993, in the city's previously crime ridden El Born, it took a further decade before the second and third superblocks were put in place. However, this urban transformation has accelerated since Mayor Ada Colau took office in 2015 when she has been slowly reclaiming the city's streets and boulevards for its residents, reducing car traffic, increasing green spaces, and creating new community spaces. 
The benefits seem obvious, not least reducing the impact of urban living for residents, including pollution – particularly important given the city declared a climate emergency early last year.   
Longer-term, there's set to be around 500 of these superblocks across the city, which will mean that eventually, every resident will have a green street and square within 200 metres of their home. It is an impressive example of how we can make better use of our urban environment and provides a blueprint of how cities across the world could look.
While Barcelona's straightforward grid system lends itself well to the creation of superblocks, back in London, plans to create two pedestrianised piazzas around Oxford Circus indicates there's potential – and appetite – to apply a similar concept in the UK capital too. With works due to start later this year, and further public realm enhancements planned for 2022, time will tell whether this initiative for the West End can deliver on its aims of improving safety, security, and accessibility. To me, Oxford Circus always feels like a transient destination – full of Londoners and tourists passing through to hit the shops, but always (as is certainly the case with me) getting in and out as quick as possible. 
While it's not a particularly residential area, especially compared to Poblenou, hopefully, creating better and more useable public spaces will serve to create outdoor areas where people actually want to stop, dwell and spend time. There'll always be people who want (or need) to live in cities, but these kinds of initiatives can only serve to help make the prospect even more enticing.