Liz Truss has been International Trade Secretary for nearly two years. This takes her Cabinet tenure to over seven years, making her the longest serving female Cabinet member, missing out on the top spot overall by Michael Gove, who was appointed Education Secretary in May 2010.  
So who is Liz Truss and what is her record on international trade?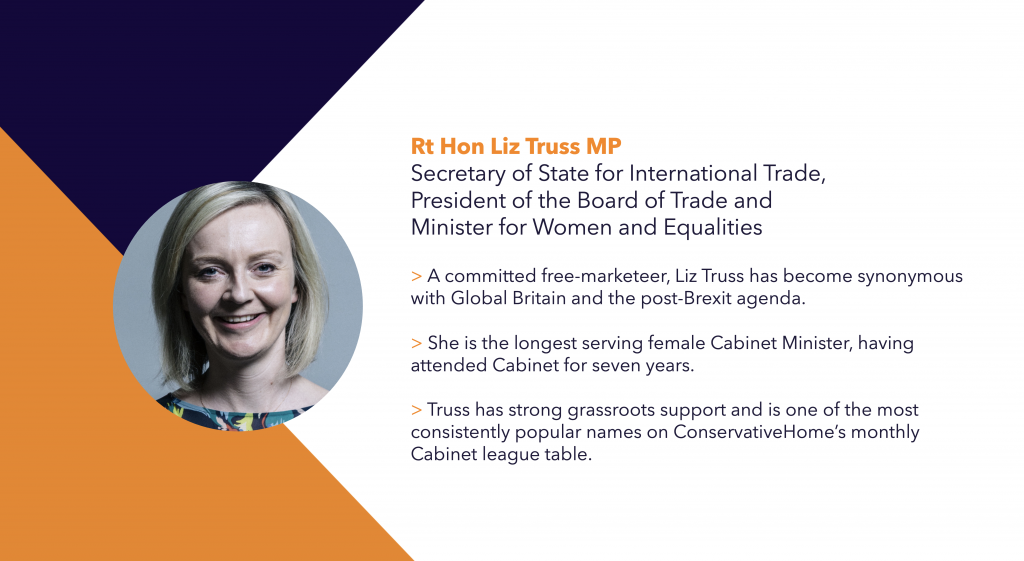 Truss has strong grassroots support and is one of the most consistently popular names on ConservativeHome's monthly Cabinet league table. The latest round of reshuffle rumours have her continuing this trajectory, making her a likely candidate for promotion at the next reshuffle pencilled in for later this year.
A plain speaker with recognisable rhetorical style, she has had several memorable TV moments, making her one of the more recognised Cabinet members – including her Conservative conference speech on cheese and pork as Environment Secretary, which have since gained meme-status. Despite its comedic value however, the unlocking of pork markets and fighting for the status of UK cheese was good practice for her role as Trade Secretary.
An unapologetic champion of Conservative economic values – and despite having voted Remain in 2016 - she genuinely believes in the new wave of Conservatism under Boris Johnson. She was one of the first Cabinet ministers to declare her support for Johnson in the 2019 Conservative leadership race to succeed Theresa May, and advised on economic policy, including plans to cut taxes for people earning over £50,000. Prime Minister Johnson chose to move her out of the Treasury and into the Department for International Trade, where Truss seemed well suited to the go-getting task of pursuing free-trade deals as part of the government's Global Britain vision.
Since her appointment, she has become synonymous with the Global Britain project, and quickly delivered several independent trade deals – 65 and counting.
Detractors have tended to describe these as "rollovers" (deals that were already in existence when the UK was part of the EU and the terms have simply been 'rolled over' from the original agreement) , with most of them individually adding back merely a fraction of the loss from decreased trade activity with the EU. But supporters have been unfazed by this, embracing the UK's new status as a newly 'independent trading nation' and the departure from the perceived bureaucracy of being part of the European bloc.
It is not only the Conservative grassroots that admires Truss, she is also popular with her party's backbenchers. "She keeps coming up with the goodies," Alexander Stafford, Conservative MP for Rother Valley, is quoted saying; "She's got good interaction with the backbenchers. Every time there's a new deal announced, she's speaking to us explaining what it means."
Truss is also managing to marry up the Johnson administration's broader agenda with trade policy, frequently referring to the opportunities for businesses to expand into international trade as part of Johnson's levelling up and building back better agenda.
The UK's tenure of the G7 presidency this year, for example, is expected to feature a dedicated 'trade track' led by the Department for International Trade (DIT). This will be focussed on representing the UK's interests as part of planned World Trade Organisation (WTO) reform proposals under the new  Director-General (DG) Ngozi Okonjo-Iweala. It will also look into issues relating to digital, data, climate policy and health – all linking back to the Integrated Review published in March 2021 which put trade "at the heart" of Global Britain.
With the UK now following WTO rules and other bilateral commitments set out in its various FTAs, the Government recently consulted on a new approach to subsidy control outside the EU. Truss' objective here will be to balance cultivating a competitive internal market economy, while positioning the UK as an innovation hub (including on fintech and other innovation sectors).
Today's Queen's Speech also includes proposals to support business growth and create high-quality jobs. Further it outlined proposals for 'Benefitting from Brexit', including a new state aid regime and launching at least eight freeports. R&D is also front and centre, including an Innovation Strategy this summer to inspire, facilitate and unleash innovation across the UK; supporting and harnessing the capability of UK innovators to boost future prosperity locally and nationwide.
Judging by this, supporting innovation and the entrepreneurial spirit at the heart of the Global Britain campaign alongside continuing to position trade as a way out of the economic challenges brought by the pandemic is not just Truss' objective, but her efforts to bridge the two has clearly found takers across government.