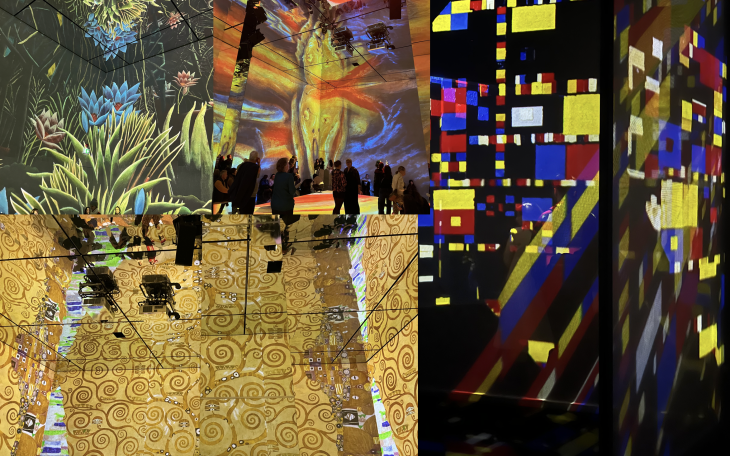 'Arts and sciences are branches of the same tree and we do art when we communicate through forms whose connections are not accessible to the conscious mind, yet we intuitively recognise them as something meaningful'


Albert Einstein
Being a creative who studied art and design, it won't surprise you to hear that I love an exhibition, gallery, or museum. Over the years, I've been lucky enough to visit many of the best examples all over the world, but I have to admit, I can often find myself feeling underwhelmed by the experience.
It's rarely the art or sculpture or relics themselves that leave me cold, or even the setting - often the architecture of the building can be an impressive, imposing work of art in itself. No, it's the people. The crowds. All that hustle and bustle kind of kills my vibe. It's especially bad around the 'masterpieces', the Mona Lisa at the Louvre being a classic example. Shuffling along amongst the selfie seeking hordes to be rewarded a mere 30 second audience with the mesmerising (and tiny) da Vinci masterpiece. It's just so uninspiring. 
So when my wife told me she had booked tickets for the family to an immersive art experience in London during the school holidays, I was, in truth, dreading it.
The exhibition in question is Frameless, on the Edgware Road just by Marble Arch. The blurb on the website reads… 'Step inside art itself as you travel through four distinct, immersive galleries, featuring iconic masterpieces from some of the world's greatest artists. Cezanne, Kandinsky, Monet, Dali, Van Gogh, Canaletto, Rembrandt and Klimt to name but a few.' Sounds amazing, right? 
So, it was... I loved it! And so did the kids. The pics here don't do it justice.
The art is essentially projected onto the walls, floors and ceilings, the entire experience captivating. First up, the galleries are huge and whilst it was busy, it felt open and spacious and very informal - almost like a park on an unexpectedly warm day with people casually moving through, some camped on the floor, some lying on it or sat back on benches, kids running carefree, but everyone free to come and go and take in the experience from almost any angle they wished. Then, there's the accompanying sound effects and music, which for me worked well and meant people could talk or be silently engrossed as required.
Words (like the pictures) really don't do it justice, as the various masterpieces are almost painted, or deconstructed before your eyes it is completely awe-inspiring. Inspiring both from a digital tech perspective (Lord knows how they do it and the painstaking work it must have taken to create) and as a reimagining of some very familiar works of art. I don't want to say too much and ruin the surprise,  but *spoiler alert* there is even a room where you can kick virtual leaves on the floor and as you move around or wave your arms, you might hear a swoosh and then those pixels travel onto the wall and painting begins to build, based on your movements. It's next-level, kids!
I have never seen my kids (11 and 16) so engaged with art. I'll admit they sometimes had their phones in hand, but they were interacting with the pieces, filming and taking photos. It was a creative process for them and certainly not endless selfies or mere documentation for their social feeds. Afterwards we talked in depth about our favourite elements and hearing them articulate their opinions, and show me what they'd captured, it was clear they had been truly inspired by the whole experience. An enthralling, modern twist on experiencing art. If you get the chance, I highly recommend a visit.