A Gen-Z show – with something for us all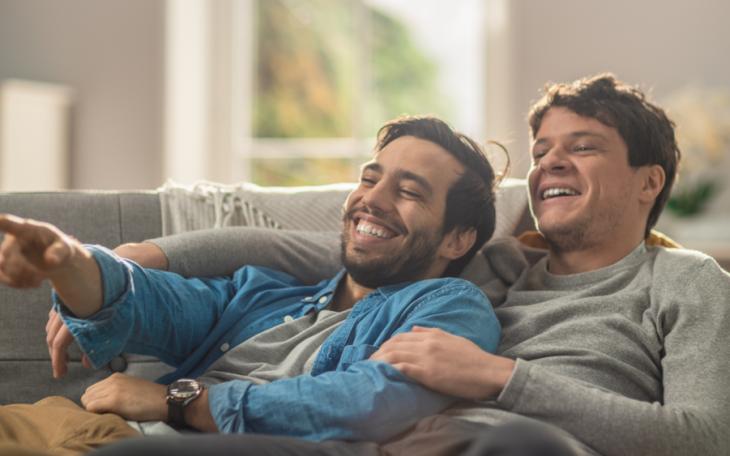 By Perry Miller
Pause the chat about falling subscriptions for a moment: Netflix has another global hit on its hands. And a proudly British one at that. Heartstopper, a teenage rom com that launched a little over two weeks ago, is currently sitting comfortably in the Top 10 in 54 countries around the world. Based on the graphic novels of Alice Oseman, it stars – and is aimed primarily at – Gen-Z teenagers but has amassed a huge audience well beyond that demographic. It has also charmed the critics: it retains a 100% 'certified fresh' rating on Rotten Tomatoes.
Set in an all-boys grammar school, it tells the story of two boys: Charlie who is nerdy, introverted and openly gay; and Nick, captain of the rugby team, popular and apparently straight. They meet, they become best friends and then – over the course of eight episodes and a few hurdles along the way – they become boyfriends as Nick realises that he is bisexual and has feelings for Charlie.
So far, so unremarkable. However, what this show delivers – and what sets it apart from much that has gone before – is its unrelentingly positive representation of LGBT+ people, who are supported by their friends and family (Olivia Colman's cameo as Nick's mum is a pleasure to watch). They are allowed to feel confident and comfortable in their sexuality. Less heart stopping, more heart-warming.
This is not how the LGBT+ community is accustomed to seeing itself portrayed on TV and the reaction has been a huge outpouring of joy and grief in equal measure. Friends and colleagues – of all ages and genders – have confessed to being in tears at key points in the show: those Heartstopper moments with which the series is laced.
And for different reasons. For those in their 20s, it's often a reminder of similar times and recent experiences at school or with family; for those older, it's a tangible sadness and sense of regret for what life could have been like, had there been any positive representation to give confidence to their questioning younger selves. Instead, for them, conformity trumped identity at every turn.
For me, at my all-boys grammar school, there was no sex education. No relationship advice. No internet. The only two shows on TV at the time with LGBT+ characters were Are You Being Served? and Brideshead Revisited. A choice between a figure of fun and a self-loathing alcoholic. Nice.
The two lead actors in Heartstopper do a remarkable job. There is genuine and obvious chemistry between the two of them which makes the many heartfelt exchanges – discussing identity, coming out, self-loathing and bullying (it's not all sunshine and roses) – all the more real.
And for those baby boomers perpetually shocked by today's youth, the show will come as a revelation: no sex, no swearing, no drugs or drink. Just people living normal lives in a state of innocence - kinda.
So, renew your subscription, put your popcorn in the microwave, have a box of tissues at the ready and enjoy.